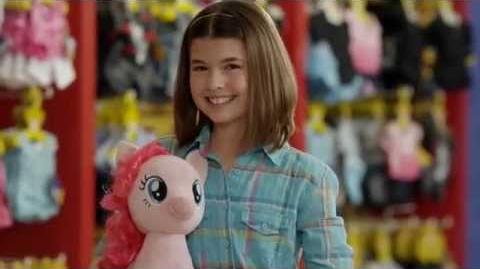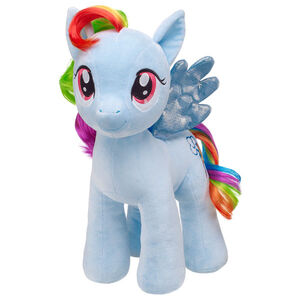 Rainbow Dash is the first My Little Pony Furry Friends. She was announced along with Pinkie Pie in March 2013. They both were sold April 1st, 2013. Rainbow Dash continued to stay on the line after Pinkie Pie was discontinued for Twilight Sparkle.
Buildabear.com Description
Edit
Take flight with this MY LITTLE PONY rainbow-colored plush Pegasus! She's ready to go on new adventures with you. The 16 inch RAINBOW DASH® plush Pegasus is light blue with blue wings and a rainbow-colored mane and tail. Personalize this colorful rainbow MY LITTLE PONY plush Pegasus doll with clothing and accessories to make the perfect unique gift.
MY LITTLE PONY and all related characters are trademarks of Hasbro and are used with permission. © 2013 Hasbro. All Right Reserved.
Product Details:
Edit
SKU: 020083
Height: 14.0 "
Product Weight: 13.0 oz
Eye Color: Pink
Fur Color: Light Blue
Description
Edit
Rainbow Dashs are often very spirited and try to live up to their namesake's potential, but have a hard time at it, due to their inability to fly (I guess they're the Scootaloos now?). There a few that like to have their own personalities, though.
Appearance
Edit
Rainbow Dash is a blue pegasus with fuchsia eyes, rainbow colored manes (red, orange, yellow, green, blue, purple, blue) and tails, shiny wings, and a rainbow colored (red, yellow, blue) lightning bolt and cloud cutie mark. 
Rainbow Dash was the first My Little Pony to be made. She and Pinkie Pie were the highest voted in Build-a-Bear's survey to figure out which two were to be first made.
Rainbow Dash is the only My Little Pony Friend to not be retired over time, being there from the start.
The gallery for Rainbow Dash is here.
External Links
Edit