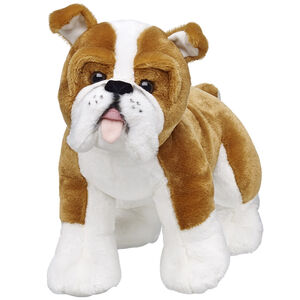 The Bulldog (also known as the Bearemy's Kennel Pals Bulldog) is a Kennel Pals Furry Friend available at Build-a-Bear Workshop. They are the only BKP Friend that was put on clearance. It is believed that this is the last Kennel Pal that will ever be made, because of the introduction of the Promise Pets that seems to have replaced the collection. It is unknown for now.
Buildabear.co.th Description (Original and Translated)
Edit
สื้อผ้าและเครื่องประดับแยกจำหน่ายต่างหาก
แวะเข้ามาชมวันนี้เพื่อพบกับเพื่อนขนฟูทั้งหมดของเรา!
[ คลิกที่นี่เพื่อค้นหาร้าน ]
ราคา 850 บาท
Clothing and accessories sold separately.
Come visit today to meet with all of our furry friends!
[Click here to Register].
850 THB
Buildabear.com Description
Edit
Make a forever friend in this playful stuffed bulldog pup! Smooth tan and white fur and a big smile make this tail-wagger a pawfect choice. Personalize the 15 in. Bulldog with clothing and accessories to make the pawfect unique gift.
Product Details:
Edit
SKU: 023875
Height: 15.0 "
Product Weight: 11.0 oz
Description
Edit
Write the second section of your page here.
Appearance
Edit
The Bulldog has brown and white fur, similar to that of a real Bulldog. They have 8 freckles and black airbrushed coloring around their mouth. Their underbelly, legs, and paws are white, while their short tail is two-toned on the top and bottom, similar to that of a Husky. They have loose skin around their eyes and a short muzzle. The ears are V-shaped and floppy.
These dogs were available in Thailand's BABW stores before the US.
The gallery for the Bulldog is here.
External Links
Edit